This month we will feature the work of the oldest 501(c)3 nonprofit organizations in the US that does work in the sustainable architecture landscape architecture and planning arena. Come hear Pliny Fisk III share 4 decades of his experience advancing innovative technologies, projects, and programs as co-Director of the Center for Maximum Potential Building Systems.
When: Tuesday, September 16, 5:30 PM to 8:00 PM (program will start around 6:15 PM)
Where: Scholz Garten (1607 San Jacinto, Austin, TX 78701)
RSVP
Pliny will give a brief overview of the center's 12 methods of design and planning and then discuss his wide ranging work with a diverse set of clientele.  His projects have included the green specification of the US Pentagon, work on the US Mexican border, the first Green Builder program in the US, a sustainable village in China's coal region, a proposal for hurricane ravaged areas such as Galveston, a new city proposal to rehabilitate the vast destruction of Morocco's phosphate mines, and Solar Decathlon support for both U.T. and Texas A&M.
Pliny Fisk III, Co-Director, Center for Maximum Potential Building Systems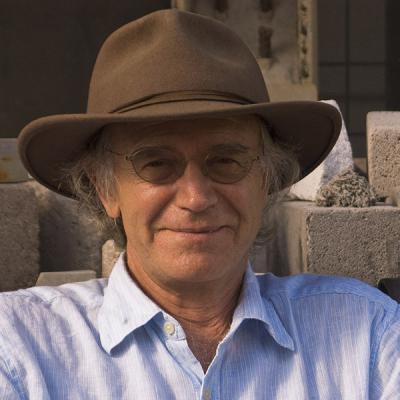 With a background in architecture, landscape architecture, and the systems sciences, Pliny has made pivotal contributions to the sustainability movement for more than four decades by developing replicable prototypes, protocols and policy initiatives.
His prototypes challenge conventional wisdom about building design, engineering, materials, economic development, and landscape and regional planning.
His policy initiatives have included the Austin Green Building Program, the AIA's Environmental Resource Guide, and greening the Texas Architecture + Engineering Guidelines.
Pliny has received several national and international recognitions including the Lewis Mumford Award, the 1992 Earth Summit Award (with the City of Austin), the U.S. Green Building Council's Sacred Tree Award, and The Passive Solar Pioneer Award.  Pliny was on the faculty at Ball State University, The University of Texas at Austin, and Texas A&M University, and held teaching positions at the University of Oklahoma and Mississippi State University.